Home
|
Bios
|
Calendar
|
Programs
| |
Photo Gallery
|
Bluff Country Gathering
|
Lanesboro Barn Dance
BOB BOVEE |
Recordings
ORDERING INFORMATION
CDs: $15.00
Cassettes: $10.00
There are two ways to order.
1) Use the "Buy Now" buttons below and pay using a credit card or PayPal account.
2) Order by mail using a check or money order made payable to "Bob Bovee."
Bob Bovee
18287 Gap Dr.
Spring Grove, MN 55974
For mail orders, add $4.00 to cover shipping on first item and $1.00 for each additional item within United States.
For foreign orders, please email bobbovee@gmail.com about shipping charges.
Record collectors, contact us about LPs. We have a limited number of selected titles available on vinyl.
______________________________________________________________________________________
AVAILABLE NOW!
OWED TO GAIL'S KITCHEN by The Original Mound City String Band (Vigortone VT-2008)
Kevin Kegin on fiddle & mandolin; Laurence Sugarman on banjo, fiddle & vocals; Gail Heil, guitar & vocals.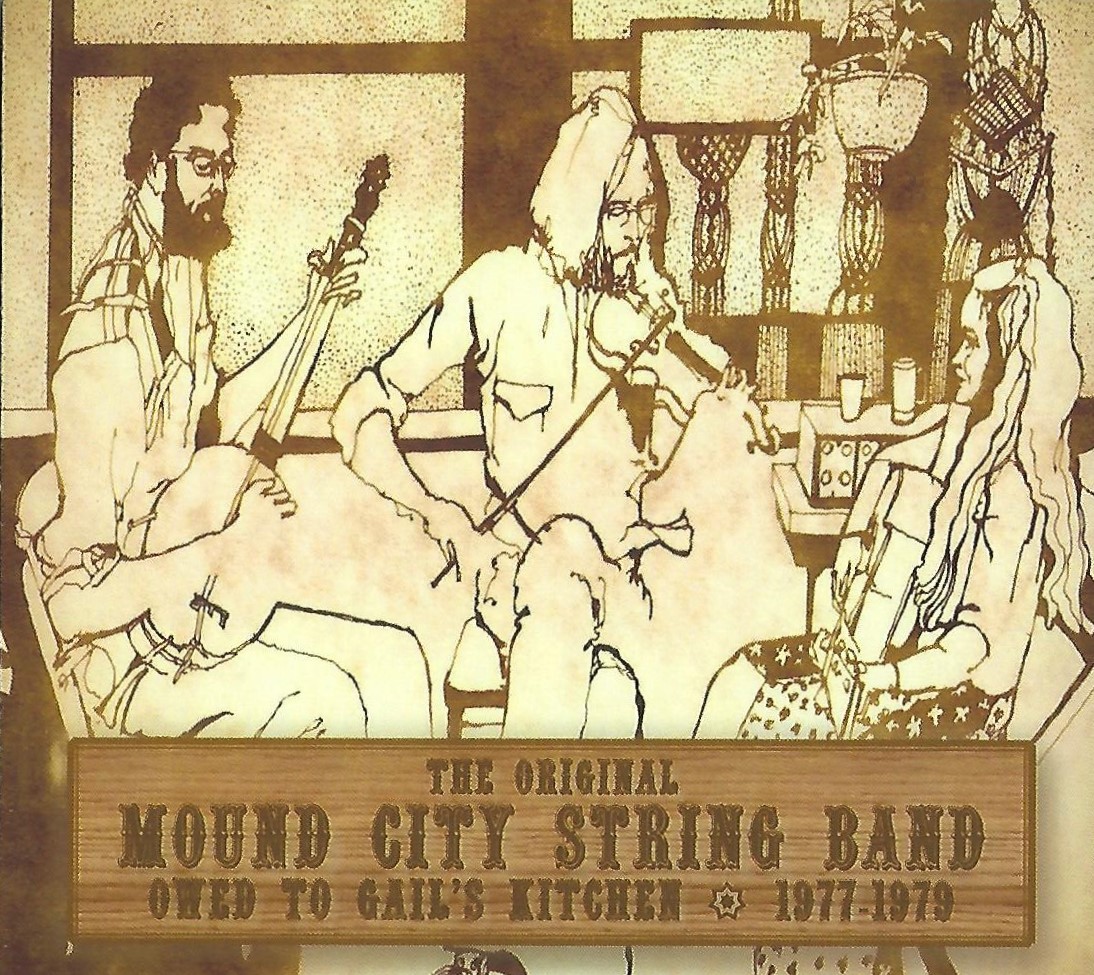 Drunken Sailor/Cotton-Eyed Joe/Dusty Miller/Grey Cat on the Tennessee Farm/Hangman/Jordan Is a Hard Road to Travel/Possum Up a Gum Stump/Sugar Hill/Which Side Are You On?/Tanner's Farm/Cold Winter's Night (The Wreck of the Number Nine)/Took My Gal A-Walkin'/Pretty Polly/Falls of Richmond
_____________________________________________________________________________
RAILS, TRAILS & TALL TALES (Jawbone 009)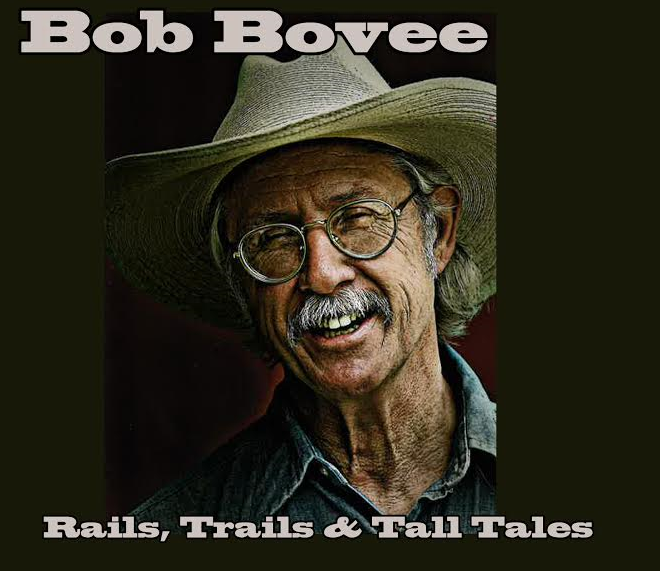 Starvin' to Death on a Government Claim/Colorado Prisoner/Black Hammer Strut/The House Carpenter/I Saw a Man at the Close of Day/Old Weary Blues/Back to My Wyoming Home/Shout Lulu/My Texas Girl/Steamboat Bill/The Poor Tramp Has to Live/Elzic's Farewell/Niagara/The Popular Wobbly/The Mowin' Machine/The Titanic/The Bronc That Wouldn't Bust/A Bad Half Hour
---
THE ROUNDUP (Jawbone 008)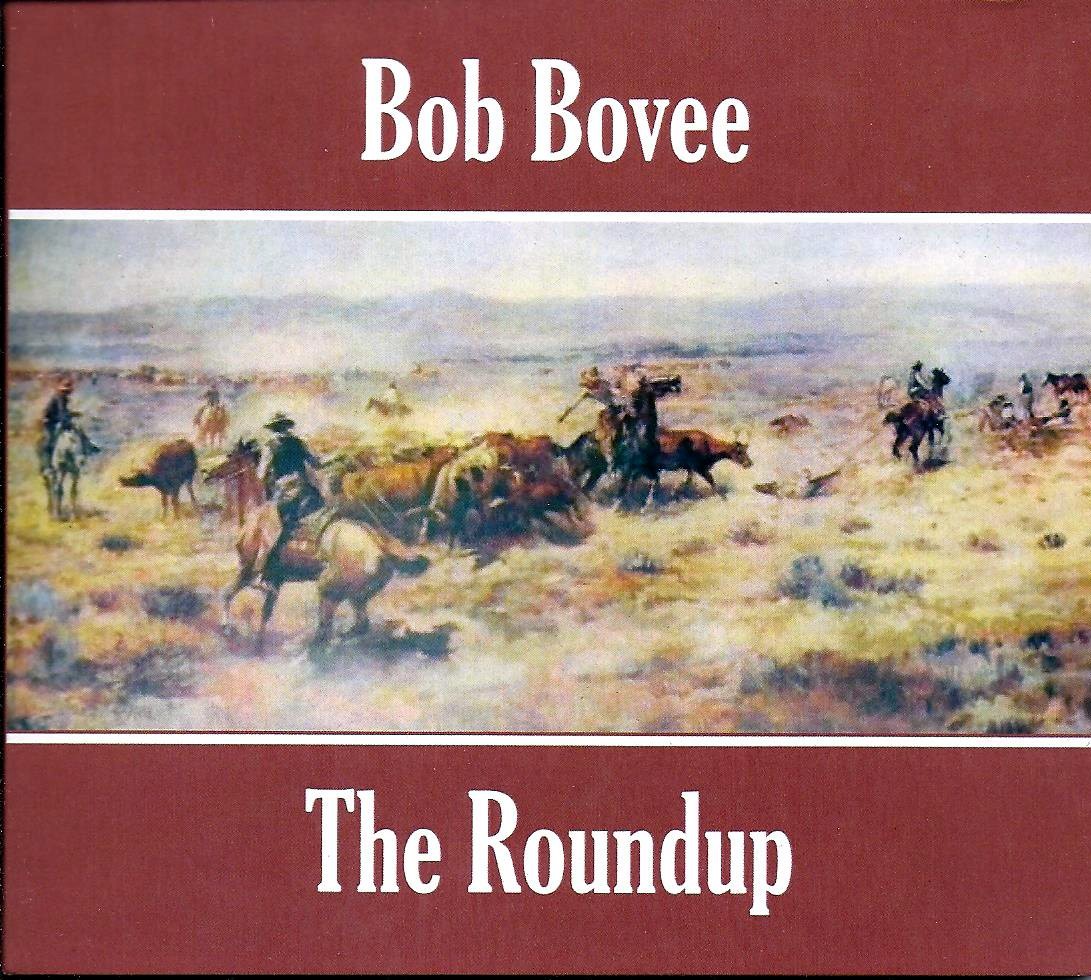 California Zephyr | Maid of Argenta | Who Said I Was a Bum | Dance Hall Girl | Texas Plains | When It's Time to Shear the Sheep | Robinson County | Clinch Mountain Backstep | Rain and Snow | Reckless Tex | Travelin' Man | Ray McGee | Yuba Dam | Brain Cloudy Blues | So's Your Old Lady | Stay Away From My Chickenhouse | Chattanooga Choo-Choo | The Last Wagon
"Songs that needed to be recorded...a fine effort; it's well worth owning and listening to over and over again." ART THIEME, Come For To Sing
---
BLUFF COUNTRY GATHERING 2000-2004 (Jawbone 005) CD only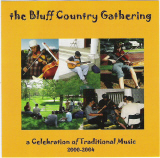 GEOFF SEITZ: Molly Put the Kettle On | JIMMY TRIPLETT: Old Wylie | CARL JONES & BEVERLY SMITH: Mississippi Shore | RHYTHM RATS: Tennessee Breakdown/BRUCE GREENE: Flander's Dream | DAN GELLERT: The Cuckoo | JAMES BRYAN: Lantern in the Ditch | NEW SOUTHERN BROADCASTERS: Chilly Winds/VESTA JOHNSON: Rosin the Bow | KERRY BLECH: Snowbird in the Ashbank | GEOFF SEITZ & BOB CARLIN: Yellow Barber | BRUCE GREENE: The Wabash/ERIC & SUZY THOMPSON: Stop and Listen Blues | RAYNA GELLERT: Katy Bar the Door | BOB CARLIN: Boatman | DAN GELLERT: Pateroller-Old Sledge/NEW SOUTHERN BROADCASTERS: Hickman Rag | RHYTHM RATS: Kentucky Winder | JAMES BRYAN: Oyster River Hornpipe | RAYNA GELLERT: Folding Down the Sheets/CARL JONES & BEVERLY SMITH: Robert's Serenade | BILL DILLOF: All I Got's Gone | JIMMY TRIPLETT: Fisherman's Girl | NEW SOUTHERN BROADCASTERS: My Little Doney
Special Sale Price Only $10.00
---
WHEN THE CACTUS IS IN BLOOM (Copper Creek 0181) CD Only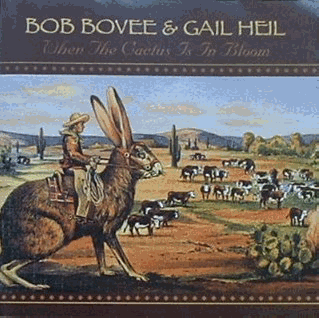 Dry And Dusty | 'Long Side Of The Santa Fe Trail | The Yellow Rose Of Texas | The Cowboy's Wife | Viola Ruth Schottische | So Long, It's Been Good To Know You | The Sportin' Cowboy | California Blues | The Dying Ranger | Robinson County | When the Cactus Is In Bloom | Escudilla Waltz | The Farmer Is The Man | Get Along Little Dogies | Spotted Pony | Lee's Ferry | Jones Waltz
"Nobody else could breathe so much life into familiar songs...Bob and Gail continue to work together exquisitely..." BOB WALTZ, Inside Bluegrass
---
RURAL ROUTE 2 (Jawbone 001) CD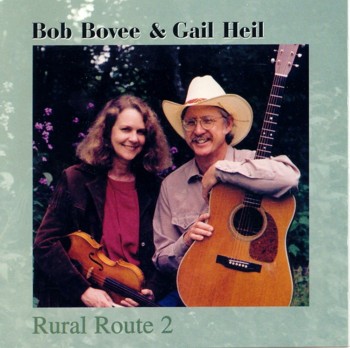 The Old Chisholm Trail | Westby Waltz | Chased Old Satan Through the Door | The Girl I Left in Sunny Tennessee | Bill Morgan and His Girl | You've Been a Friend to Me | Crow Black Chicken | Chiney Doll | Gastonia Gallop | Darling Nellie Gray | Eli Green's Cakewalk | I Don't Want Your Millions, Mr. | Big Rock Candy Mountain | Nobody's Darling on Earth | Old Jaw Bone | Handsome Molly | Maple on the Hill | I Was Born About 4000 Years Ago
"... impeccable sense of old time aesthetics...I love their choice of material and what they do with it." KERRY BLECH, The Old Time Herald
---
POP WAGNER & BOB BOVEE CD or Cassette

Originally issued in 1977, now with 5 new bonus cuts with Gail Heil...
Didn't He Ramble | Sail Away Ladies | Rovin' Gambler | Daddy Let Me Know Before YouGo | Sweet Talkin' Mama | I Don't Want Your Millions, Mr. | Old 97, Where Did You Go? | The Cowboy | Chesterfields | Skid Row | Yella Gal-Rye Straw | Streetsinger's Heaven | Northern Line | Hobb Dye | Whiskey in My Glass | Bringin' in the Georgia Mail | Bonaparte Crossing the Alps | Hobo Blues | Blue Mountain | Milwaukee Blues | I'm Goin' Back to Dixie
"They sing, very nicely, with a bit of down-home huskiness that does their music good and separates it from the colder (however much more virtuosic) approach of many urban singers and pickers... Recommended." PAUL WHITTIER, Old Time Music
CD
Cassette
---
COME OVER AND SEE ME SOMETIME (Jawbone 002) CD only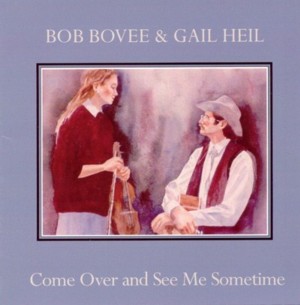 Walk Along John | Buddies in the Saddle | Down on Penny's Farm | Zacatecas March |What Will I Do For My Money Is All Gone | Franklin D. Roosevelt's Back Again | Baby Rose | Banjo Tramp | These Bones Are Gonna Rise Again | Rose Waltz | The Cat's Got the Measles | Miss the Mississippi and You | Wart on the Pumphandle | Wreck of the Number Nine | My Little Rooster | My Dixie Darling | Douglas County Rag | The Lazy Farmer Boy | I Had But Fifty Cents | I Ride an Old Paint | Ain't No Bugs on Me | Come Over and See Me Sometime
"This is the kind of blend that takes close attention and many years to accomplish...they're tight, they're good, and...they're having fun, too." MOLLY TENENBAUM, The Old Time Herald
---
FOR OLD TIME'S SAKE (Jawbone 006) CD or cassette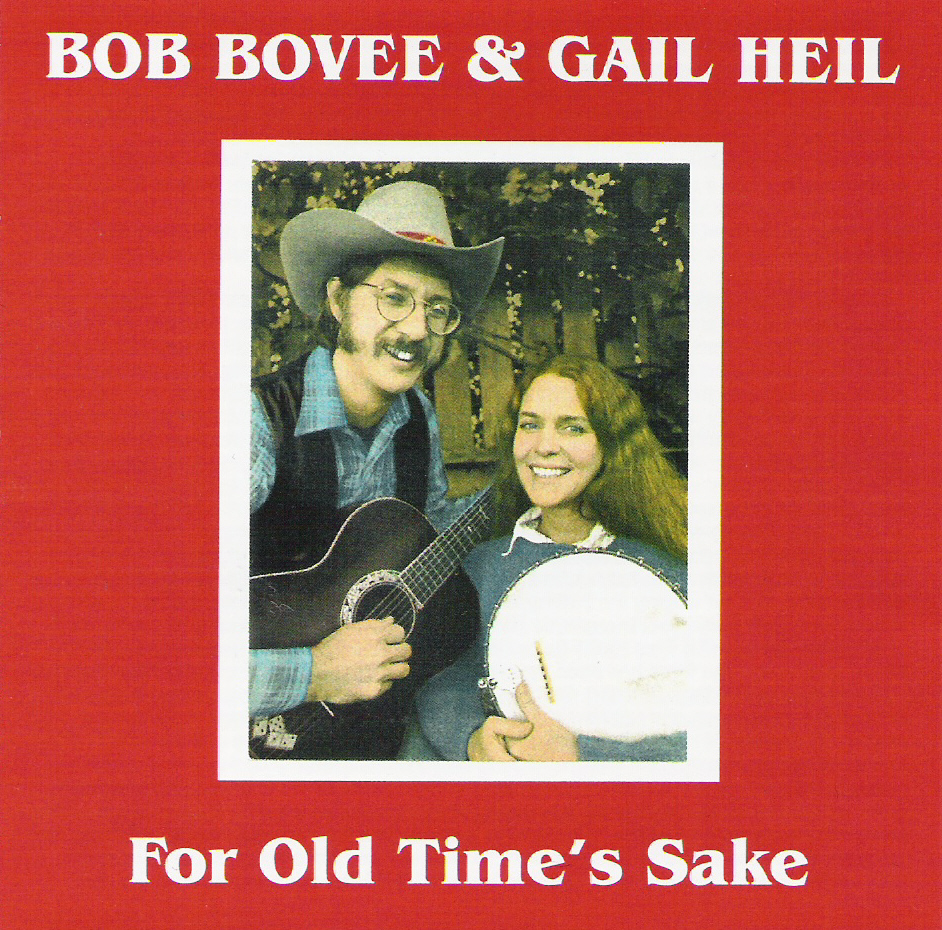 Goin' Down to Cairo | Jack of All Trades | Every Bush and Tree | Cotton Mill Girl | Old Ladies Pickin'Chickens | Goin' to German | Whiskers | Reincarnation | Hide Away | A Dollar Down and a Dollar a Week | Drunken Hiccups | Where Did You Get That Hat? | The White Slave | George Washington |Ridin' the Chuckline | Two Faithful Lovers | Squirrel Heads and Gravy
"Everything about the record, from the production to (most importantly) the singing and playing, is top notch."PHIL NUSBAUM, KUNI Radio
CD
Cassette
---
BEHIND THE TIMES (Marimac 9007) Cassette only — Out of Print

All Gone Now | Red and Green Signal Lights | Little Rabbit | Been All Around This World | | Georgia Camp Meeting | The FFV | John Henry | Don't Try It | Orvetta Waltz | Papa's Billy Goat | The Girl I Left Behind | Gypson Davy | Kissin' Is a Crime | Picture From Life's Other Side | Banjo Pickin' Girl | I'd Like to Be in Texas | Adam and Eve| My Wife Went Away | Bring Me a Leaf From the Sea | Streetsingers' Heaven | Railroading on the Great Divide
"Their music isn't stand-offish. It welcomes you in and asks you if you'd like some corn bread...It's only when you pick up an instrument and try to follow along that you realize the subtlety of what's being presented." LYLE LOFGREN, Inside Bluegrass
Out of Print — Currently Unavailable
---
COME ALL YOU WADDIES (Jawbone 007) CD only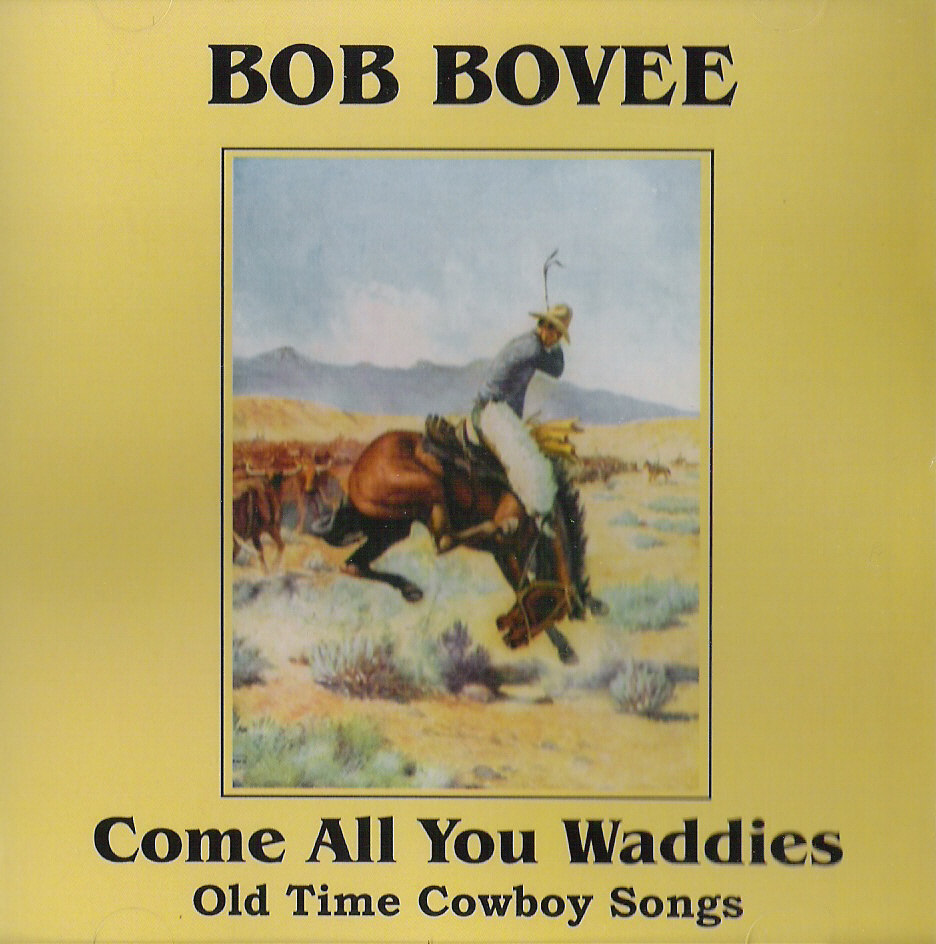 Tyin' Knots in the Devil's Tail | Dayherding in the Rain | Trail to Mexico |Punchin' the Dough | Mother the Queen of My Heart | Dreary Black Hills |When the Work's All Done This Fall | The Gol-Darned Wheel | Cowboy Jack | Night Herding Song | The Horse Wrangler | A Message From Home Sweet Home | Sam Bass | The Strawberry Roan | Clayton Boone | Cattle Call | Little Joe the Wrangler |Windy Bill | Texas Rangers | The Zebra Dun
"Bob Bovee has long been one of my favorite cowboy singers and I happily give a strong recommendation that people purchase this..." KERRY BLECH, The Old Time Herald
---
These next two recordings are filled with the tunes frequently requested at the many shows we have played for senior citizens over the years. Mostly they are familiar old favorites that people said they had a hard time finding on recordings.
---
TUNES FROM HOME (Jawbone 003) CD or Cassette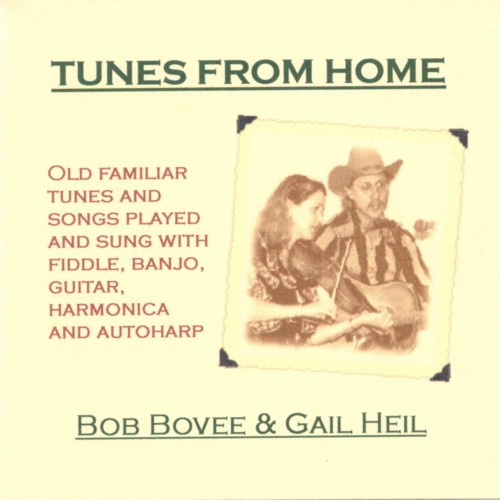 Old Gray Mare | Put Your Little Foot | Tunes From Home (Schottische) | The Prisoner's Song | Camptown Races | Birmingham Jail | Dixie | Ragtime Annie | The Tennessee Waltz | The Man on the Flying Trapeze | Under the Double Eagle | Jesse James | Peekaboo Waltz | Beautiful Brown Eyes




CD

Cassette

___________________________________________________________________________________________________

FROM THE HEART (Jawbone 004) — Out of Print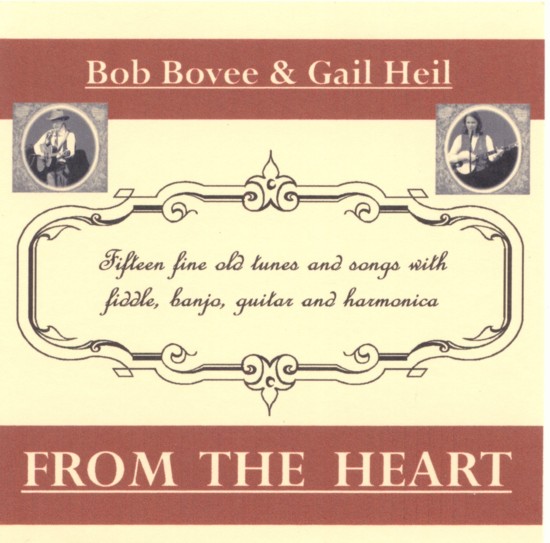 Golden Slippers | Springtime in the Rockies | Seeing Nellie Home | Oh Susanna | Missouri Waltz | Casey Jones | That Silver Haired Daddy of Mine | Little Brown Jug | Buffalo Gals | My Old Kentucky Home | Turkey in the Straw | I'll Be All Smiles Tonight | Wreck of the Old 97 | Nobody's Darlin' But Mine | Red Wing
---
BLUFF COUNTRY GATHERING Tee-Shirts
From the 20th Annual Bluff Country Gathering in 2018, designed by Addie Rosenwinkel and Marie Stier.
$20.00 Postpaid